ABOUT ODP
The Olympic Development Program is an identification system linked to the United States Soccer Federation and US Youth Soccer. The program offers its players a pathway that could lead to representing Regional and U.S. Youth National Teams. Originally established in 1977, ODP was the first program in the country designed to identify potential youth national team players. ODP players begin initially at the local sector before progressing to the state, regional and possibly national levels. By playing with like-talented athletes, ODP offers the opportunity for players to advance in their personal development and to be scouted by college coaches.
ODP was created for two purposes:
To identify national team players at the youth level.
To provide development opportunities for these potential national team players.
The core principals to identify and develop for the national team have not changed over the years, but with expanded opportunities for player exposure through various other opportunities the program has transformed. We seek to lead players in Tennessee that desire exposure to new coaches, playing with various new players and talent levels, and opportunities to be seen by collegiate coaches or national scouts.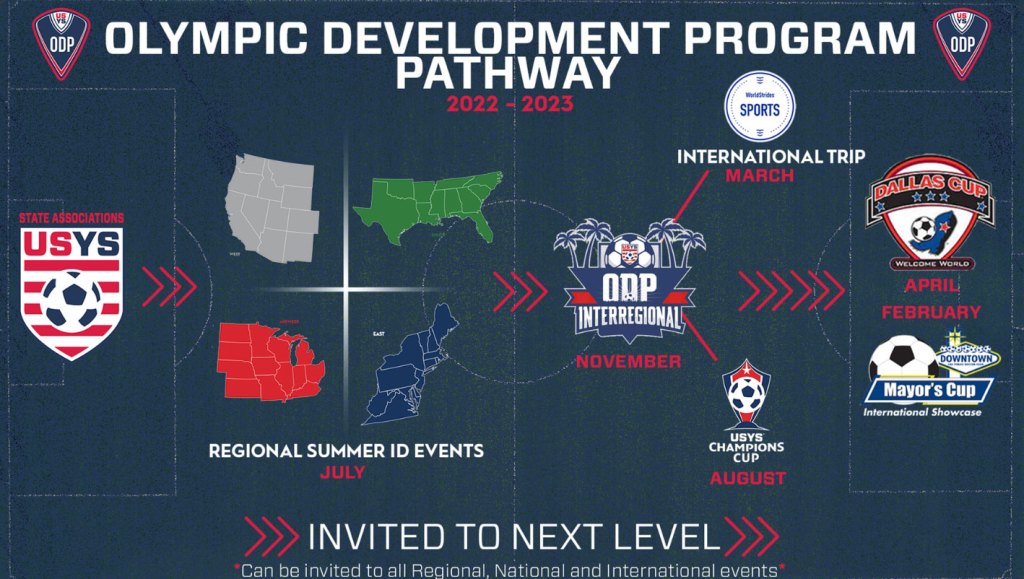 ---
PLAYER DEVELOPMENT EVENTS
---
PLAYER DEVELOPMENT PROGRAMS
The Tennessee State Soccer Association (TSSA) is committed to providing Premier Player Development opportunities to our players. We offer a robust Player Development Program (PDP) including ODP Training and International Travel. There are not mandatory events for continued participation once a player has been included in ODP, however, a player that has 2 consecutive seasons of inactivity within the program will be removed from active player status and will be required to attend tryouts/be re-evaluated before returning to the program.
For the 2023-2024 seasonal year, ODP will include players from 11U (2013 birth year) through 17U (2007 birth year). Players have the opportunity to develop through our ODP trainings on an average of one weekend per month. (The schedule for pool training can be viewed on the Player Development Calendar.) TSSA recognizes that Player Development occurs primarily at the individual club/team level, and our Player Development Program is designed to complement those endeavors, not conflict with them. The 2023-2024 Player Development / ODP Calendar is available by clicking the "View All Player Development Events" button above. For more information on ODP, please click the Learn More box below the ODP video above.
---